Bike on, but use your own bike until Summer 2012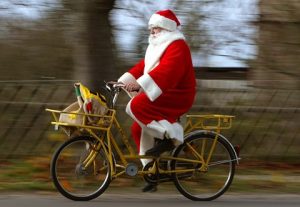 No, we will not be seeing Santa riding on a NYC bike-share system by this Christmas so he is going to have to stick to his sled. Instead, NY is staying true to who they are and are fashionably late with the execution of the bike program. How appropriate being that fashion week just ended. The NYT says that the city is
still trying to get their act together on this one
.
I'm not holding my breath from all the issues mentioned in the article. Instead, I'm just going to look at this situation like I do men: If they don't have their act together, just go onto the next. That is, when I see the bike-share system actually functioning on the streets i'll consider it then.
Oh, and New Yorkers have been
proposing some hilarious suggestions
on where to put the bike stations.