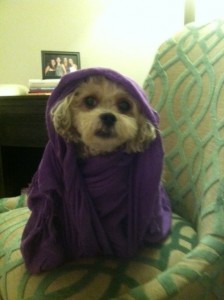 Cultural category
As a kid, I used to be obsessed with playing fashion show with my sister and cousins. We would have all the categories covered: sportswear, evening, swimwear, sleepwear, whatever we could think of and of course, there had to be a talent section. My Mom or Aunt was always the judge and I'm sure they did their best to keep a straight face whenever fashion show days were inflicted upon them.
In any event, the obsession seems to have morphed into I dress my dog up just because it makes me laugh sometimes. So, today he was subjected to trying on my scarf. He sits very content as I do these things. I think he actually enjoys it or perhaps he is scared. Ridiculousness I say. It keeps me sane, I swear.
And I will admit he does have a pair of Pajamas that I put him in and he loves. I'm very proud of the fact that my dog does not fuss when clothes are put on him and even more so, he is perfectly behaved in any clothing store and clothing dressing room, for that matter. I'm not sure how he would fare in other circumstances, but he has the shopping down.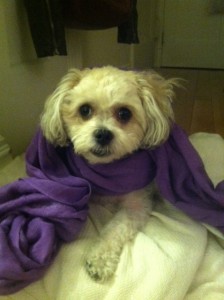 Preppy category